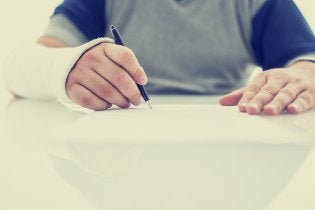 When you discuss your case at a personal injury law firm near Annapolis, one of the issues the attorney may cover is damages. Damages refer to the compensation you may receive for your losses. Typically, a personal injury lawyer can seek compensatory damages for an individual's calculable or economic losses, which include medical expenses and lost wages as well as for pain and suffering. Depending on the specifics of the case, it may also be possible to recover compensation for psychological damages such as post-traumatic stress disorder (PTSD). Psychological damages are somewhat more difficult to prove than calculable losses, but it is possible to do so in some cases.
Underlying Causes
A plaintiff, who is the individual who files a lawsuit, may be more likely to recover psychological damages if the cause of the personal injury was particularly serious. For example, it may not be easy for a personal injury lawyer to prove that you suffer from PTSD as a result of a minor fender bender. On the other hand, PTSD may be proven more readily if you were the victim of a catastrophic car accident and required the "jaws of life" to be removed from the wreck. To demonstrate to a jury the severity of the incident, your accident lawyer may introduce as evidence photographs of the scene of the incident and testimony from eyewitnesses.
Related Physical Injuries
For personal injury claims, plaintiffs are more likely to recover compensation for psychological injuries if they have been diagnosed with physical injuries caused by the incident. This generally speaks to the severity of the individual's losses. For example, jurors might award a plaintiff compensation for PTSD if the plaintiff lost a limb in the accident or if the plaintiff suffers from other chronic or severe health problems.
Documented Signs and Symptoms
It is helpful to document the signs and symptoms of PTSD to substantiate the allegations. Individuals who suffer from PTSD may have recurring thoughts or flashbacks, social withdrawal, anxiety, insomnia, and general disruption in day-to-day life. The plaintiff's physician or psychologist may be called to testify about these symptoms. Additionally, personal injury lawyers may call an expert witness to the stand to testify about the nature of PTSD .
Disclaimer: This article provides general information about the topics discussed and does not qualify as legal advice. Every case is different and the laws applicable to each case may differ. If you have a legal matter, you should speak to an attorney to get advice on your particular situation.